A computer model to simulate the impact of EU Cohesion Policy
01/08/2019 | Research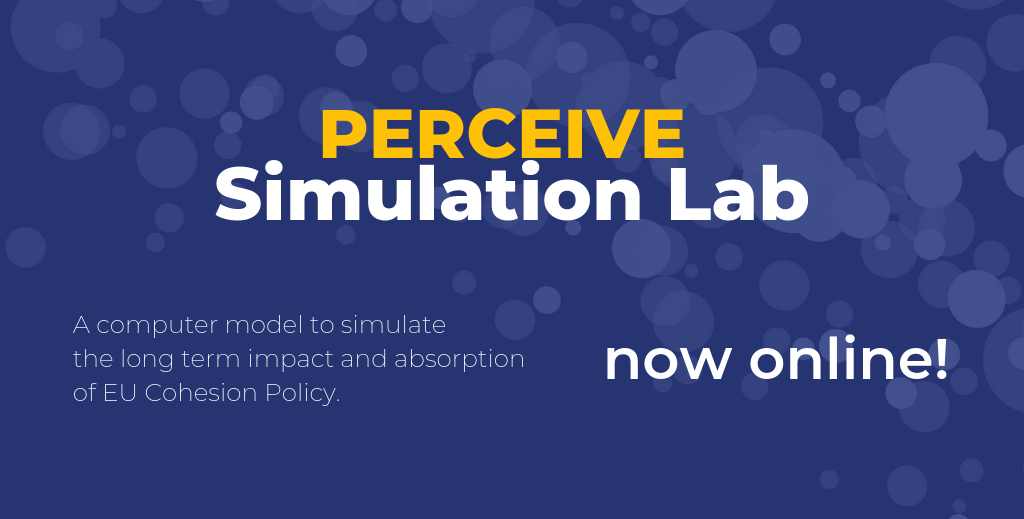 The European Cohesion Policy implementation varies highly, depending on a wide range of internal or external factors. PERCEIVE's team has been researching and identifying the variables that impact the most on Cohesion Policy, shaping its long term effects on regions. 
Why not simulating it?
PERCEIVE's aim is not only to foster academic research but also to make research findings valuable and useful for policy-makers' and stakeholders' directly involved in EU Cohesion Policy implementation and communication, at both European or regional level. 
To achieve this goal, the project's team developed PERCEIVE Simulation Lab: a computer model that simulates the implementation and absorption of the EU Cohesion Policy under different assumptions developed in the context of PERCEIVE research.
What can PERCEIVE Simulation Lab do?
The interface provides the users with the opportunity to play with the calibration of some of the 400 and more model's parameters within a range of values to investigate the long-term impact of different scenarios on CP funds' absorption. The PERCEIVE Simulation Lab allows users to set the calibration of parameters and explore dynamic patterns of CP funds' absorption by the means of graphical representation.
The selected parameters are not the only that affect the system, but they are considered as the critical ones. The ranges of the parameters' values are not considered as rigid limits, but they rather act as logical estimates that enable the users to obtain meaningful results.
Curious about the methodology used in building PERCEIVE Simulation Lab? Read PERCEIVE Deliverable 6.1 for more information. 
Project Updates
Last month of PERCEIVE project!
by 01/08/2019
The project will end on 31 August, but we still have some insights and materials to share with you. Stay tuned!
Last Tweet
Join Us