"Voices from the regions": Cohesify Final Conference
20/04/2018 | BAM! Strategie Culturali | Events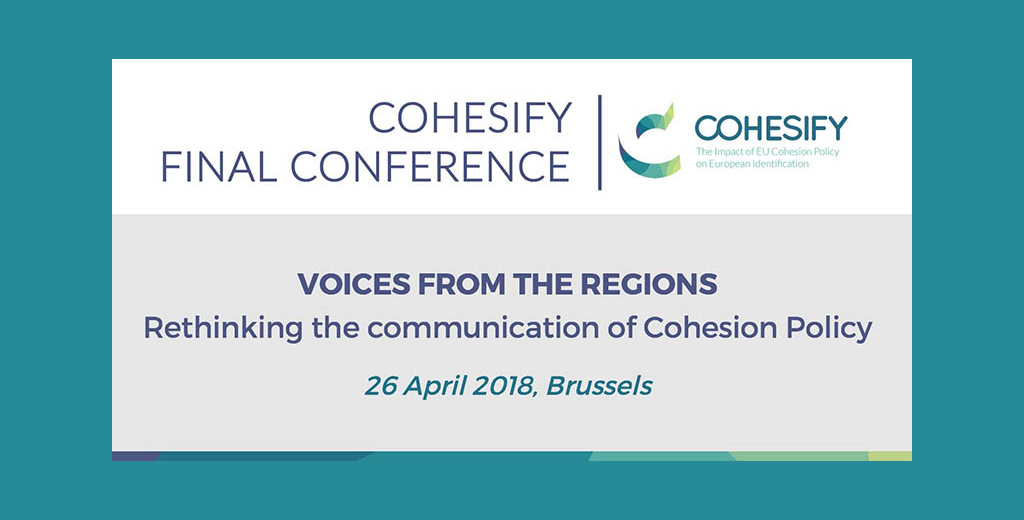 On the 26th of April, the Horizon 2020 project Cohesify will hold its final conference in Brussels. Our team will participate and look forward to finding out the results and their policy recommendations on Cohesion Policy! Read further to find out more.
What is COHESIFY Project?
COHESIFY project (2016-2018) funded by the Horizon 2020 programme, similarly to PERCEIVE Project, "assesses the impact of EU Cohesion policy on citizens perceptions of and identification with the EU". However, the research focused on different case-study regions, which include: Scotland (UK); North-East England (UK); Lombardia (IT); Podkarpackie (PL); Pomorskie (PL); Cyprus; Central Macedonia (EL); Nyugat Dunantual (HU); Zahodna (SI); West Romania; the Province of Flevoland (NL); the Province of Limburg (NL); Baden- Württemberg (DE); Thüringen (DE); Andalucía (ES); Castilla y León (ES); and Southern and Eastern Ireland.
The event
The final event "Voices from the Regions: Rethinking the communication of Cohesion Policy" will take place on 26 April 2018 at the Committee of the Regions in Brussels. Together with policy-makers, programme and project managers, representatives of EU regions and institutions, we will attend the conference to see results and recommendations for the future of Cohesion Policy. Three main questions will be addressed: 
What do citizens think of Cohesion policy?
How is Cohesion policy presented in the media and social media?
How to reconnect with citizens through Cohesion policy?
We are very much looking forward to this event!   
Are you interested? You can register here.
Do you want to find out more about the project? Visit the website!
Project Updates
Last month of PERCEIVE project!
by 01/08/2019
The project will end on 31 August, but we still have some insights and materials to share with you. Stay tuned!
Last Tweet
Join Us